How to grow career with Product Manager Skills Portfolio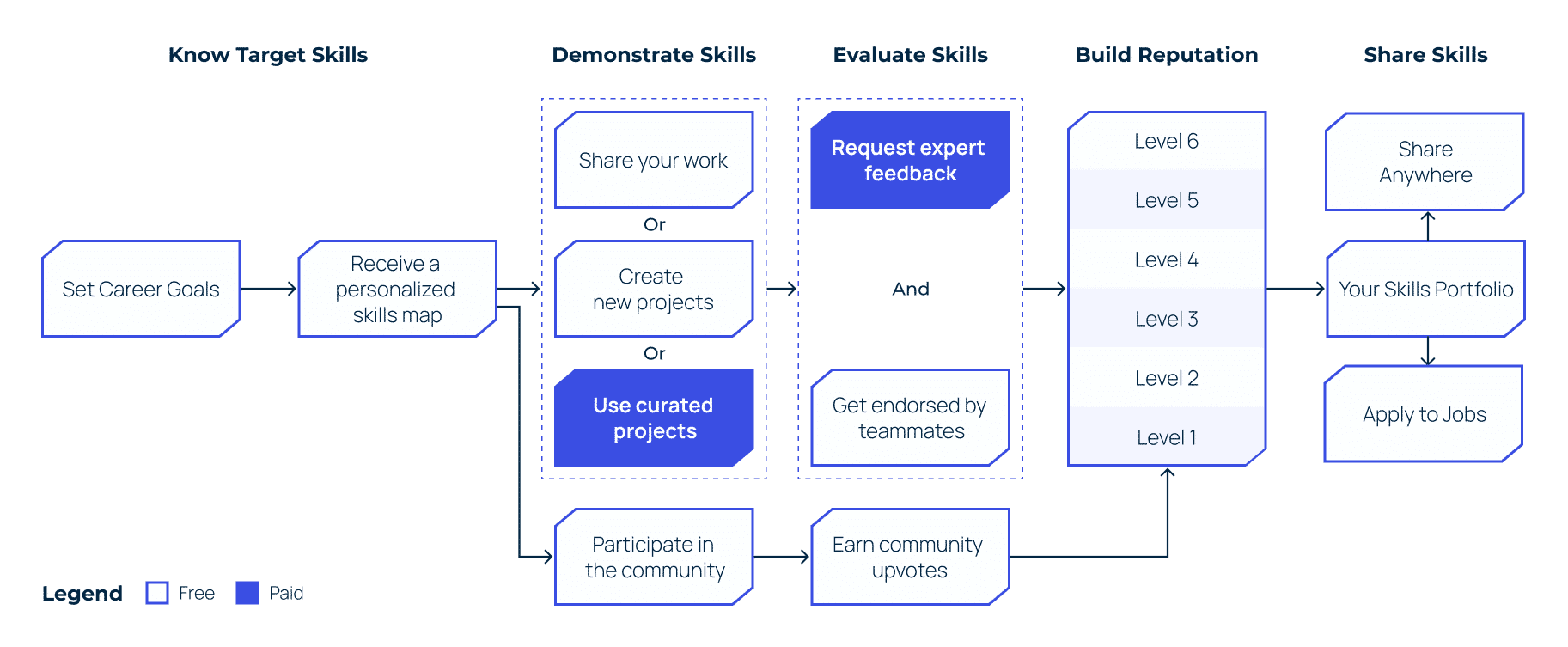 Prowess is designed with a belief that what people can do matters more than where they learned, how they learned, or who they know.  We achieve our belief by enabling professionals to take charge of their career journey by setting career goals, demonstrating skills, receiving expert feedback, and building a product manager skills portfolio, all in one place. 
We follow a rigorous process to select experts and curate a skills map for a professional's career. Our skill progression system encourages professionals to level up, know where they stand and even become an expert. That's right, anyone can become an expert on Prowess if they demonstrate the right level of expertise.
The first thing professionals need to do is tell us about their career goals – the target role, seniority level, industry, and size of the company. This information helps us curate a personalized skills map to help build a portfolio and meet career goals. 
2. Review Personalized Skills Map
The personalized skills map consists of skills needed for a professional's target role. It serves as a guiding system to help a professional select the right activities and monitor progress in her skills development journey to showcase on a portfolio.
3. Select Your Skill Building Activity
Prowess offers three types of activities that enable professionals to capture their skills development journey.
The activities provide a channel for different real-life scenarios. For instance, professionals can select new projects to get started, share prior work, substitute confidential projects with endorsements, and know where they stand, all in one place. All these projects are automatically added to the portfolio as a professional makes progress.
4. Highlight your Skills and Industry experience
A professional can tag every activity on the Prowess platform with skills and industries that help her demonstrate expertise and get closer to her goal. The skill tags are then used to measure a professional's progress on the skills map.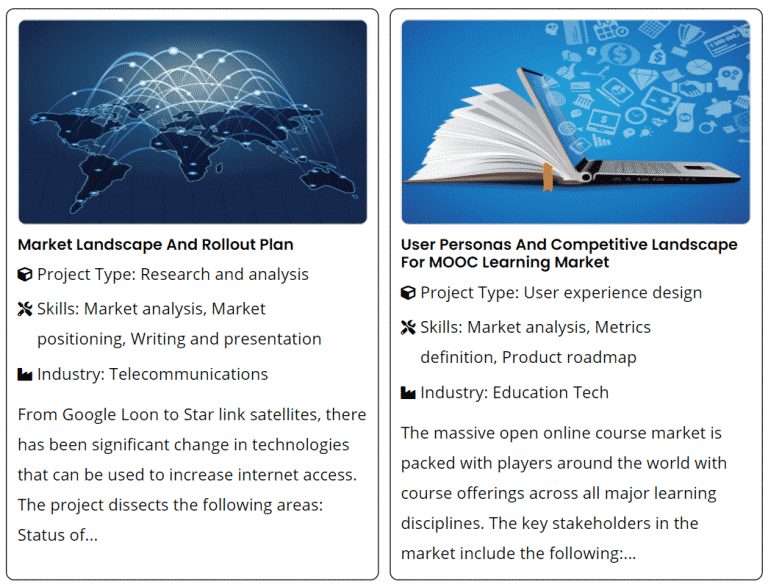 5. Evaluate your progress
Expert reviews help professionals identify their strengths, improvement areas, and actionable next steps. Experts provide anonymous, personalized, and rigorous feedback that is used to calculate a professional's skills score. A summary of the expert review can be added on the skills portfolio.
Expert Review For MOOC Learning Market Competitive and Stakeholder analysis
6. Showcase Your Product Manager Skills Portfolio
A professional product manager skills portfolio is created based on their activity on the platform. The portfolio contains her projects, endorsements, and contributions along with her top skills and skills progression rate. The portfolio serves as a longitudinal record of a professional's career journey, showcasing progression along with her current skill level. This, we believe, separates outstanding professionals from the crowd and help them fast track their career.
Skill Progression by Category
7. Apply to Jobs with Product Manager Skills Portfolio
A product manager professional can use their skills portfolio to apply to a job posting with one click. Every job posting has a role archetype and suggested skills score that professionals can use to benchmark their performance against job requirements. This allows professionals to :
1) know which skills they need to develop, 
2) save them time during job search by only focusing on relevant jobs and, 
3) select a project suggested by employers to showcase their skills.
Advanced Programs Product Manager / Chelmsford, MA
Pattern Learning AI - Career & Tech Recruitment Reimagined!