What is the community about?
The Prowess product manager community is a group of like-minded professionals passionate about building products people want. We are committed to honing the craft of product management by exchanging ideas, discussing the latest trends, and helping one another grow. We come from all backgrounds and consist of
Product leaders who have cut their teeth in the profession for 15+ years and want to give back to the community
Mid-level PMs who want to keep growing and help others grow
Aspiring PMs who are looking for mentors to guide them through the product management career
Most of all, we are a 
community of practice
where collective learning creates more value and growth than individual learning.
How Does The Community Fit In The Prowess Platform?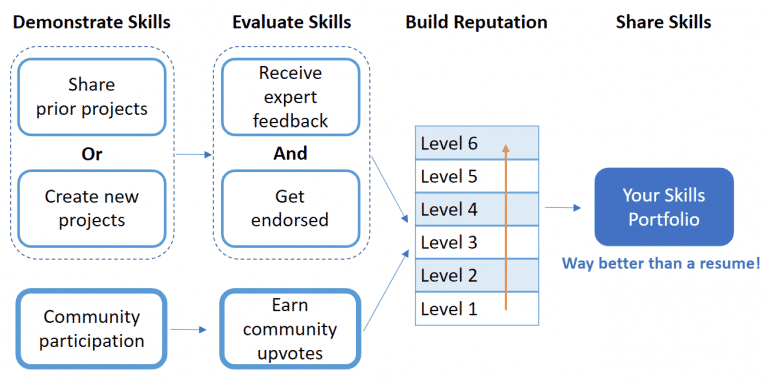 The product manager community is the third leg of the platform along with projects and endorsements. It enables you to learn from like-minded professionals on a day-to-day basis while you work on projects at or outside the workplace. The community is the underlying support network that helps our members to continuously improve their reputation and build their product manager portfolio. The higher the quality of the contribution, the higher the number of upvotes a member receives, resulting in a better reputation and a higher skill score.
Professionals and experts can participate in the product manager community by asking questions, providing answers, sharing resources, discussing project work, and receiving/ giving peer feedback. To ensure targeted discussions, participants are encouraged to add pre-defined topic tags that relate to the theme of every topic. Participants can use four types of topic tag groups –
Skill Tags – these tags represent the skills associated with the topic. Skill tags are divided into 6 subgroups – communication skills, strategy skills, design skills, technology skills, execution skills, and go-to-market skills.
Industry Tags – these tags represent the industry associated with the topic and comprise 25+ industries.
Persona Tags – these tags provide context on the intent of the topic author. For example, if a professional has a question related to hiring, they should use the hiring tag.
PM Tools and Resources Tags – these tags can be used when a topic is related to tools and resources needed in day-to-day work as a PM. These tags make it easier for community members to find the right resources.
Prowess Vocabulary Tags – these tags represent the core building blocks of the Prowess platform and can be used to provide us feedback or have discussions in the larger community about projects, endorsements, and expert reviews.
What are the Community norms?
Prowess is a community of practice and our focus is on creating a safe space for our members to become better product managers. This is NOT a place to request resume reviews or merely coordinate mock interview sessions – there are plenty of other communities that already offer this service. This is a place to go beyond transactional one-time interactions to have meaningful discussions about the skills required to be a product manager and then work to grow those skills. This is a place to share your work, get feedback, inspire others, and get inspired.
Rules:
Please participate to add value. If your topic/ comment can be helpful to the product manager community, please post Holding back (lurking) lowers the quality of the discussion as it deprives the community of your insights and normalizes non-participation.

Use tags generously. Tags are used to build your product manager portfolio and help others find and reply to your topic and resources. Please use tags.

Create only relevant topics related to the product manager profession.

Topics should be specific and have a purpose. Please avoid general or broad discussion. 

No direct sales, ads, self-promotions, or spam. You will be flagged and eventually banned.

Stay on topic. No one-word or emoticon replies. Post a reply only if you have something meaningful to add related to the topic.

No link only posts or memes. You will be flagged.

Avoid repeat questions. Please read before you post. Someone might have already answered your question.

Be respectful, kind, and supportive.

Limit links and no affiliate links. if you post a link, please provide at least one sentence explanation for the link.

Do not solicit personal message requests. Community members can reach out to you if they want.

Moderators have the final say.
grow with like-minded PMs